History
Church
xxxxx
xxxxx
Parish
xxxxx
xxxxx
Locality
xxxxx
xxxxx
The following is an excerpt from "Diocese of Ferns" 1915, written by W.H. Grattan Flood.
The Parish of Tagoat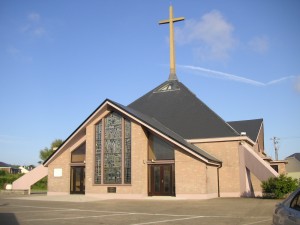 The present parish of Tagoat is not more than a century old, but it represents the older parishes of Rosslare, Kilrane, Kilscoran, St. Helen's (Killelan), St. Michael, and Ballybrennan. As a place- name it is non-ecclesiastical, and its etymology is obscure: it is not even included in the civil list of townlands in the County Wexford.
Rosslare, according to O'Donovan and Dr. Joyce, means " the middle peninsula," but this derivation is untenable, as the old spelling of the 13th century invariably gives it as Rosclare," that is, the point or headland of the wooden bridge. In 1405 Philip Mason was Rector of the parish of St. Mary's, Rosslare, and the church was situated in the place now known as Churchtown.
Kilrane (Cil Ruadhan) was dedicated to St. Ruadhan (pronounced Raan), whose feast is celebrated on the 15th of April—and whose name is associated with the monastery of Lorrha, and with the cursing of Tara. The former importance of the place may be evidenced from the fact that it was a Prebend. In 1442 Miles Devereux was Prebendary of Kilcomb with the annexed parish church of "Kilrodan"; and in 1455 Thomas O'Farrell was collated to the Prebend of Kilcomb, 'to which is canonically annexed the parish church of Saint Rodan (Kilrane)." In 1560 John Devereux was the first Protestant Rector of "Kilroan," and was appointed first Protestant Bishop of Ferns in 1566.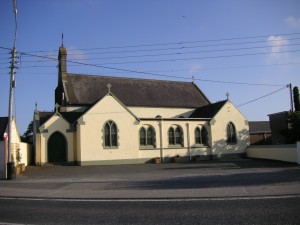 Kilscoran is of non-ecclesiastical origin, and is really Coil-scoran, meaning the boggy wood. The church is dedicated to St. Inick—one of seven daughters of Hugh. At Slad and at Trimmer – both in the parish of Kilscoran – there were formerly chapels dedicated to St. Brigid; while at Hillcastle was a chapel dedicated to St. Ruadhan. Kilscoran church was in the patronage of the Hay family, and, in 1550 Thomas Hay was the last Catholic Rector under the old regime. He was also Dean of Ferns. His death took place in 1558.
St. Helen's, or Killelan, was a small parish (dedicated to St. Helen), as was also that of St. Michael. The latter church was in the townland of Bush and was dedicated to St. Michael the Archangel: it belonged to Kilclogan. Ballybrennan was dedicated to St. Kevin of Glendalough, but the church was profaned and destroyed by the Cromwellians in 1650. There was also a chapel in the parish dedicated to the Seven Daughters of Hugh. In 1801 Bishop Caulfield returned Rosslare as valued at £35 a year.
Parish Priests
Rev. Robert Esmond was Pastor of this district from 1686 to I7O9 In 1704 he registered himself as P.P. of Kilscoran, Kilrane, Rosslare, St. Michael's, Ballybrennan, and Killelane—residing at Ballydungan. His will was proved in 17o9.
Rev. James Comerford laboured from 1709 to 1732, after whom there is a lacuna.
Rev. Mark Cooney was P.P. from 1788 to 1815.  He died on July 28th, 1817, aged 78, and was buried at Taghmon.
Rev. Mark Barry (P.P. of Kilrush) was transferred to Tagoat in 1815. He had experienced much persecution in the '98 period, and was in ill-health when appointed to Tagoat. However, he laboured for five years, and at length was compelled to resign on November 20th, 1820. He died at Wexford on September 17th, 1847, aged 88.
Rev. Walter Rowe, C.C. of Enniscorthy, was appointed Adm. of Tagoat on March 4th, 1821, and succeeded as Pastor in 1822. He died on June 18th, 1846, in the 53rd year of his age. He built the present church of Tagoat. The first Mass in it was celebrated at his funeral. The church was dedicated on November 25th, 1846.
Rev. John Kavanagh (C.C. of Kilmore) was P.P. from 1846 till his death on April 19th, 1869.
Rev. John Kirwan laboured from May, 1869, to September, 1875, when he was transferred to New Ross.
Rev. Thomas Cloney was P.P. from 1875 till his death on January 24th, 1895.
Very Rev. Luke (Canon) Doyle, President of St. Peter's College, Wexford, from 1890-1895, was appointed P.P. in 1895. His labours during the past twenty years are known and appreciated even outside the diocese of Ferns. He built a beautiful church and a neat curate's residence at Rosslare, and he introduced the Mercy Nuns also at Rosslare. The importance of Rosslare in recent years need not be enlarged on.
Antiquities
Mention has been previously made of the old churches at Rosslare, Kilscoran, Kilrane, and Ballybrennan. The west gable of the ruined church of Rosslare still remains, with the belfry. The old Castle of Ballybrennan belonged to the Synnott family.
In the townland of Burrow there is a holy well dedicated to St. Brioc.
St. Michael's cemetery and a holy well are reminders of the old parish of St. Michael's.
A fine cinerary urn was found on the south-west of the Mountain of Forth, in 1884, and is now in St. Peter's College.
In 1642 Rosslare Fort was erected by the Confederates, and Paul Turner was appointed first Captain.